One of my long-time favourite bloggers, the charming Gala Darling, has started a frank and open dialogue on her blog this week about body image issues, and how the media affects how we perceive ourselves and others, and how the blogosphere is as much of a culprit in the war against self-acceptance as any other form of mainstream media. It's a very thought-provoking topic, and brings me to my personal challenge for the day.
Day #6: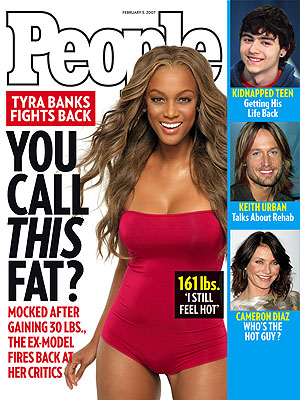 Refuse To Be Ruled By Insecurity
Obviously, unlike some of the other "less ordinary" ideas I've posted recently, this isn't something you can check off your list in a day or so. For most of us, insecurity is a problem that's taken a lifetime to develop, and nothing is going to cause you to magically love yourself. However, taking the time to work on feeling better about yourself, accepting your uniqueness, and making the most of what makes you special is far more productive than standing at the mirror, mentally pointing out all the things that make you feel inferior.
Getting involved in the world of the performing arts in childhood, for me, meant being exposed to body image issues and insecurity is something that happened at a fairly early age. It's one thing to go through life feeling inferior, always mentally reminding yourself that you aren't that special, that you're not as thin, not as pretty, not as talented,, not as interesting as the next girl. That's tough on the self-esteem, naturally. But,as a performing artist, you're repeatedly putting yourself out there for criticism, living in a world that will tell you it doesn't want you because you're too fat or too thin, too tall or too short, too plain, too All-American, too ethnic, too virtually anything that you might be is enough of a reason for someone to tell you straight-up they're not interested in you.
It's a harsh world, one that aspires to not only perfection, but even then, a type of perfection that's never attainable. In reality, the most successful performers are those that own who they are, rise above the feedback, and have enough confidence to present an unabashed version of themselves. There are, of course, ways to compensate for that confidence, if you lack it—as the old saying goes, "Fake it until you make it"—but showing insecurity or fear of being judged is the best way to ensure you don't hired. Even Lady Gaga, the most well-marketed pop sensation since Madonna, hides behind flashy costumes, outrageous makeup, and being as scandalous as she wants to be, while telling an audience full of admirers what she wanted to hear throughout her life as a performer, "You're special just the way you are, and there's a place for you, so don't be afraid."
It's pretty easy to do when you have a well-crafted, much-loved image to hide behind. Most performers need to create much more subtle versions of their own image, one that doesn't give the outward presence of being artificial—but still protects the person inside from demons like judgment, insecurity, and inadequacy. It's no wonder that many artists, after years of performing, training, schooling, etc., find themselves out in the real, 9-to-5 world not being as accepted, liked, or admired as they'd prefer to be. I once had someone tell me the reason people didn't like me was because nothing about me seemed real, like I was a character out in the world, rather than a real person. I thought about this more than a little, since the person who said it was someone I'd known for awhile (and later did me great personal harm, so as it turned out, really DIDN'T like me much.), and realised I understood the observation. Being a performer, to a certain extent, means creating a wall between yourself and the rest of the world, a way to protect the fragile pieces inside, and to be tough enough to survive with your confidence intact—and to compete, and win.
It's not that much different in the "real world", at least I don't think so. It's just that many people are unaware they're putting those walls up, and others are unaware that without those walls, they're likely to find themselves trampled upon. Everyone wants to compete, and win, and one of the weapons of choice in life seems to be finding opportunities to cut down your competition. Judging others, gossiping about others, making assumptions about people, and passive-aggressive tricks to create feelings of insecurity and inadequacy are extraordinarily common among even the most educated, talented, and accomplished of women.
In my case, it wasn't until I spent a few years in the "real world" that I realised how cruel that place could be, and how it was much more difficult to protect yourself from what the world had to say about you, than from a director that refused to give you a job or a photographer that didn't find your look appealing. Suddenly, all my defenses stopped working. I gained 20 pounds. I didn't go out of the house to socialise for three months. And, I stopped being able to put myself out there—to go on auditions, to look for work, to flirt with someone I found attractive, to even get up and sing in front of friends, or play games where I risked looking silly. All of the sudden, I felt like what I perceived myself to be—a short, chubby, weird-looking girl that people didn't like, and always talked about.
After a lifetime of "Fake it until you make it" in the confidence department, I'd started to believe in myself, knowing that whatever my flaws, I had a certain amount of charisma, appeal, and "star quality" working for me. After all, I'd always been a short, curvy, weird-looking girl, and I'd always had plenty of people who didn't like me….as well as plenty of friends. I landed roles, got noticed positively for my uniqueness, was fairly popular, and had no problems in the dating department. My general attitude toward myself made it easier for me to brush off the rejections, the haters, the things I always disliked about myself.
A particularly negative experience with other people, and ultimately with myself, took that away from me. On one hand, it's the worst thing that ever happened to me—and on the other hand, it's the best. I'm learning to love myself in a more real, unconditional way, and learning that being loved by others can be real and unconditional, too. You don't have to be perfect, thin, beautiful, accomplished, or rich to be loved…you just have to open yourself up to it, which is an extraordinarily difficult task, when you're always hiding for fear of being hurt.
In reality, there's no way to protect yourself from that. No matter how perfect, thin, beautiful, accomplished, or rich you are, there will always be someone to judge you, someone waiting to tear you down….and you'll find that everything you thought would make you happy ultimately did very little. You'll find yourself constantly hiding, limiting yourself, retreating from life, while simultaneously thinking you're very free and open and confident enough to put yourself out there.
In case you were wondering, here's what the average American looks like—and it's not what you're seeing in any magazine.
Men:
Height (inches): 69.4 (5 feet, 9.4 inches)
Weight (pounds): 194.7
Waist circumference (inches): 39.7
Women:
Height (inches): 63.8 (5 feet, 3.8 inches)
Weight (pounds): 164.7
Waist circumference (inches): 37.0
In addition, the average non-surgically-enhanced woman wears a 36B bra size, and has 39″ hips, making her between a size 12 and a size 14 for most clothing designers. Although this is average, a size 12 or 14 is considered "plus" size for many designers, and some choose not to manufacture their clothing in these sizes.
Unattainable perfection is the most dangerous illusion, because it leads to the idea that if only we can achieve it, we will finally be worthy of love and admiration, and protected from the possibility of being hurt. It leads to both men and women starving themselves, throwing up in the bathroom five times a day, drinking bottle after bottle to get through the tough times, taking drugs, having random sexual encounters, and mutilating their bodies, all in an attempt to punish themselves for not being a living example of unattainable perfection, and not deserving happiness.
Get out there and live your life, no matter how imperfect you think you are. Flirt with someone you find attractive, without assuming nobody would ever notice *you*. Eat a real meal with friends, carbs and all. Drink champagne to celebrate nothing special, except life. Fall in love. Travel. Open yourself up, without caring what others will say or what the photos will look like.
Personally, I'm going to spend this weekend wearing a few of the many cute outfits that have been retired and hiding in my closet because I think they make me look too fat, too voluptuous, too skanky, or someone else will criticise my quirky fashion sense. I'm going to ignore the scale, stop examining my flaws in the mirror, stop telling myself how unremarkable and unattractive I am. I'm going to get a pedicure, eat brunch, and remind myself that life isn't an audition, and it's not a competition.
It's just life, and each of us is as well-equipped to participate as the next person—even if that person is thinner, richer, smarter, prettier, or has a better job.