I had a number of different topics to write about recently, but I think the theme for the week is this: crazy people.
This particular post got moved to the front of the writing ideas queue because once again, my roommate had an out-of-town friend imposing on our hospitality, and staying with us. In the past, my roommate has had a friend whom I call The Most Obnoxious Man In The World stay with us. He eats our food, stays out at the clubs until 5 AM, wakes up the entire house by slamming doors and turning lights on, makes rude and demeaning comments to and in front of women, talks loudly on his cell phone while everyone else is sleeping, and is generally the most inconsiderate person I've ever met.
That is, until I met Ted. Of course, the visitor's name is not really Ted, but he kind of looks like a Ted, so it'll do for descriptive purposes.
On first glance, Ted seemed nice and hospitable. Despite the fact that I've been seriously ill for 6 weeks, behind on work, and need peace, quiet, and non-stressful situations in my life as much as possible, my roommate thought it was a good idea to let Ted stay here, AND have two of his guy friends over to cook dinner. Said guy friends are very nice and polite…one actually did cook dinner for all of us, and cleaned up, despite my objections…..but we live in a 1300 square foot apartment with a tiny kitchen, and AC that doesn't work properly. There's very little room, and when people are over, talking and watching TV, it is not restful. It is not a low-stress environment. It is not conducive to work, and this is why I rarely have anyone over, outside of The Guy I Am Currently Dating.
We also have 2 bedrooms, and four couches, and none of them are well-suited for visitors, in that they don't pull out into sofa beds, or provide any level of comfort. In short, we're well-equipped for having people over to watch a movie or hang out, but when all is said and done, they need to go home.
That being said, it's a little annoying that my roommate keeps having out-of-town visitors we don't have space for, but it would be the tolerable inconvenience if said visitors were polite and respectful. Last night, after dinner was eaten and cleaned up and my roommate's two guy friends went home for the evening (it was 11 PM on a Sunday, so that seemed an appropriate time to call it an evening.), my roommate took Ted out to his favourite local bar for some drinks.
All seemed well and good until my roommate returns at 2 AM, extremely anxious, without Ted. Ted apparently wanted to drink more and more at the bar, and the next thing you know, Ted is attempting to score cocaine from guys who appear to be dealers at the bar. On a side note: Seriously, how do you know who is a coke dealer at a bar you've never been to, in a city that's brand new to you? I'd like to point out that, probably because I'm not into drugs,I've only met drug dealers at bars/restaurants a handful of times, and in all those experiences, the offending individuals were owners/management of the venue. (and offers were declined. Don't do drugs.:P )I would have no idea how to go to a bar and find a drug dealer. But, apparently, Ted does.
My roommate, sensing trouble on the way, told the bouncer that Ted was being a little unruly, and it was time for him to get cut off. The bouncer told Ted to close out his tab and leave, and that should have been the end of it. Instead, Ted gives his wallet, keys, cash, cell phone, and other items to my roommate, and proceeds to leave the bar in a car with the aforementioned strangers/potential-drug-dealers.
At this point, the only thing my roommate knows Ted has is my roommate's cell number, since it seemed ill-advised to give our address to a guy riding around the area with sketchy strangers, drunk, possibly high, and very likely to attract police attention. However, the problem turned into "Where did Ted go?" and "How is he going to find his way home?".
Finally at 5 AM, there's a loud knock on the door, and voices. Lights go on and off, doors slam open and shut, and I have no idea who is in the house…whether it's Ted, police, or angry drug dealers. All I know is I'm scared shitless, despite taking my evening Valium (prescription drugs are OK.
), and pretending not to be in the house. Finally after 6, it seemed that everyone was back in the house, and we all went to sleep…which would be great if I didn't have to work, being Monday morning and all.
I wake up, and my roommate is on the couch, and Ted is passed out in my roommate's bed. 2 PM, and he's still here, sleeping it off. I find that Ted had been doing shots from my bar, and left the sticky shot glass sitting on the counter, so it was covered with ants, and the cheese I had bought to make grilled cheese this week was opened and used by not me.
I don't understand. I've been a Couchsurfer for years, and have met many interesting people, and felt welcome at many different places. But I'd never dream of any of this behaviour that seems to characterise my roommate's friends. I'd never abuse hospitality of a stranger, but especially not a friend.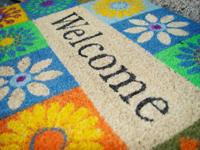 I do like my roommate, especially since he's been working on getting his life together, and has become a more considerate individual with whom to live—and because he adores my dog. But experiences like today's make me believe I really need my own space, my own calm, and my own anxiety-free living situation. Perhaps some people are just "alone" types, while others are less bothered and feel less infringed-upon by rude visitors. I think I'm the first.