It seems like there's a lot I'd like to sit down and write about, mostly stressful personal situations going on in my life. I'd like to update the world on the ongoing struggles with my health, and also an amazingly upsetting incident a few weeks ago that involved The Mother Of The Guy I Am Currently Dating leaving voicemails on my machine designed to tear me down, and ended with threats to do me harm if I didn't leave Atlanta (for good measure); confusion about the future of my relationship (and specifically, if there is one there), and my ability to be independent and start all over again, should that need to happen; and the audacity of a girl in my Meetup that was not only incredibly rude to me when I interacted with her, but wrote to The Guy I Am Currently Dating to ask him out to dinner without running it by me first. I'd like to vent about the isolation that's come with two months of illness, and the disappointment in friendships and infatuations that aren't what you put into them, specifically when some people simply are the type you can't get too close to, or they'll pull a disappearing act.
Perhaps I could talk about Dragon*Con, and the anxiety I'm feeling over going, because my recent struggles with anxiety and medication have left me fighting with odd symptoms of social anxiety disorder, and because the medication I am on caused me to gain 8 pounds and feel less loving toward myself than ever before. (especially given some of the commentary delivered by The Mother Of The Guy I Am Currently Dating.) I could talk about how I've gotten to a point where I don't believe anyone could find me attractive on any level; physically, emotionally, mentally, or just by virtue of being a "nice" person, and how I'm not sure how to interact with a world that doesn't naturally emphasise my attractive qualities lately.
However, all those things seem stressful, so when I sit down to write, a blank screen stares at me, and I leave to do something else. Instead, I'll share some of the things I'm infatuated with lately.

*Spotify. A new service that's part ITunes, part Rhapsody, and one of the best ways I've found lately to discover new music, as well as share what I love with others. In theory, it can also help keep your music collection organised, but I'm afraid it takes a lot more to organise me.
*
Christina Perri
. A tattooed, long-haired native Philadelphian who channels a strange mix of Alanis Morrisette, Tori Amos, and Norah Jones, this girl is one of the more talented and unique voices to show up in the pop world in a long time. Her
"Jar Of Hearts"
caught my attention, as well as that of the radio stations, a few months ago, and immediately charted impressively on Billboard before Christina even signed with a label, or released a CD. Her first album is out in the UK right now, called
Lovestrong
, and is available on her website. Oh, and she's a great supporter of
To Write Love On Her Arms
, one of my own favourite causes.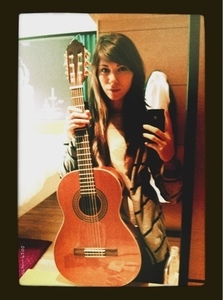 *
Marie Antoinette
One of the women in history that fascinates me to no end, I'm planning my own spin on a modern-day Marie Antoinette costume for Dragon*Con this year. And, just in time, I'm preparing to read Juliet Gray's
"Becoming Marie Antoinette"
, the first book in the trilogy about this controversial coquette.
*
Big Brother 13
Despite the fact I haven't put any serious effort into campaigning to get myself on the show since making it to the final auditions way back in 2000, I still love the show just the same. And this year, I have Showtime, which means I can watch 3 hours a day (fortunately, while multitasking life.) It's trashy, stupid, predictable, and I love it. Still cheering on the women America loves to hate, and waiting to see
Rachel Reilly
try to win the whole thing for her (and her cheating, controlling man.)
*
Swap-Bot.Com
I have always loved mail, and confess to an online shopping habit and missing the days when letters came in envelopes with stickers and handwritten love was usually involved. Today's love letters to the world—and one another—are usually digital, and just not quite the same. (though, every once in a while, I'll find myself getting excited when I see an e-mail from an old friend.) I also enjoy being crafty, unique, and sending little care packages to my friends…but the problem is, I don't know many people like me. The last card I received from The Guy I Am Currently Dating basically signed his name, and the last present anyone gave me was tossed in a bag rather than gift-wrapped. Needless to say, I'm delighted to find a new hobby in Swap-Bot, where you can find like-minded pen pals and artsy folks, and even some writers and artists looking to get to know others. I highly recommend signing up and playing along!
I guess that's all for me…ending on a positive note, so I can save my energy to recount some (if not all) of life's dramas at a later date. See you over on Facebook! (do follow me if you're a reader who's not already a friend.I like to know who's out there, but not enough to enable comments! ;P )